The New York Board of Bar Examiners is the administrative organization charged with enforcing the New York bar exam eligibility requirements. We are not affiliated with the examiners. We include this information to provide general guidance to foreign applicants. If you have any specific questions regarding your eligibility, you should contact the examiners directly. 
New York Bar Exam
Complete Guide for Foreign Lawyers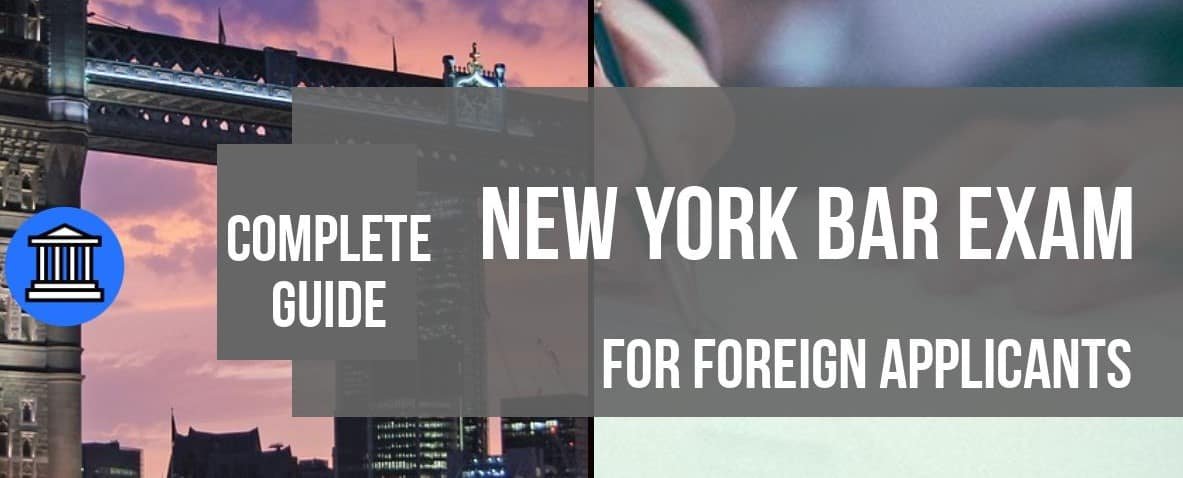 Introduction to the New York bar exam for foreign applicants .
Why We Wrote this Guide

Navigating the bar exam is difficult for any applicant, let alone a foreign applicant. Although many resources are available for domestic applicants, there are not many available for foreign applicants. The New York Bar Exam Complete Guide for Foreign Applicants closes that gap. From eligibility requirements to preparation materials, we will provide you with the guidance you need.

How Much of the Guide Should You Read?

The guide is designed to be comprehensive. Each new section covers different information relevant to taking the New York bar exam a a foreign applicant. Only some of the sections may apply to you. The best way to read the guide is to use the table of contents below to navigate to the sections that apply to your circumstances.
Before delving into the specifics, it's important for you to understand what the bar exam is, and how it differs from comparable exams in other countries. Each state in the United States (US) regulates the practice of law within the state. If you are licensed to practice law in New York, you will not automatically be licensed to practice law in California or any other state. Every state administers a bar exam as the main method of obtaining admission to the state bar (becoming licensed to practice law). Therefore, the bar exam is a licensing test for legal professionals seeking admission into a state bar. If you pass a bar exam in a state, such as New York, then you can continue the process of obtaining a license to practice law.   
The bar exam is a multi-day (most often two-day) exam designed to test your knowledge of the law and your legal reasoning ability. If you would like to learn more about the format of the bar exam, we offer an extensive guide to bar exam information (geared for all applicants) in another section of this website.
The Bar Exam for Foreign Applicants
For a foreign applicant (a foreign law graduate or foreign attorney not already admitted in any US state), the only way that you can become licensed to practice law in a state in the United States of America is by passing the state's bar exam. Only a few states permit foreign law graduates or foreign attorneys to take the bar exam. For example, under certain circumstances, New York permits foreign law graduates to take the bar exam. In order to determine whether you are meet the requirements, you must determine your eligibility.
A foreign applicant taking the New York bar exam has different needs than a US law graduate. As a law graduate, you need to learn:
strategy and techniques focused for foreign applicants;
substantive law in a manner focused for non-US law school graduates; and
from personalized instruction from a bar exam expert who can teach you the nuances of the New York bar exam.
In this chapter, learn how to pass the New York bar exam as a foreign applicant.